Discover the average timeframe for SEO results and the key factors that influence your SEO program's performance. so, how Long Does SEO Take to Show Results?
In this fast-paced digital world, SEO can feel like the slow-food movement. But how long does it really take to see results from SEO?
Understanding SEO "results" is crucial before delving into the timeframe. When starting your SEO program, it's vital to set clear goals for what you want to achieve. While revenue is often a primary objective, organic traffic is the key metric to measure SEO success.
Now, let's explore how long it typically takes to see SEO results. On average, it can take several months up to a year to witness measurable improvements. This timeline is a general consensus among experts and supported by Google's own recommendations and research from Ahrefs.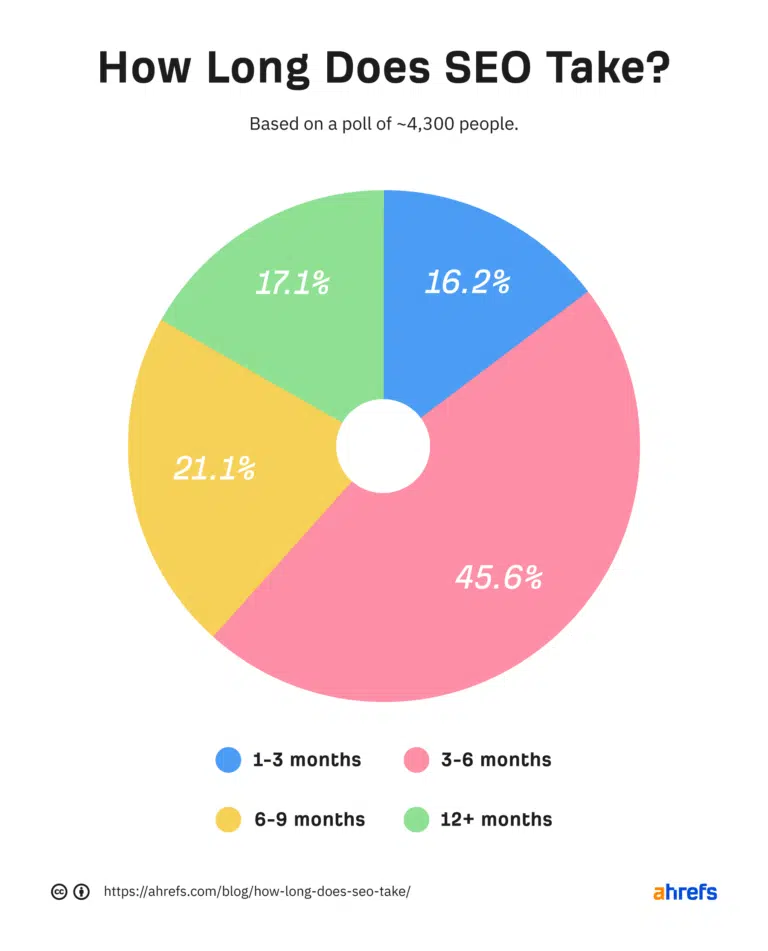 Real-world examples further illustrate this timeframe:
This is How Long Does SEO Take to Show Results For Organic Traffic
Ecommerce site: An ecommerce furniture business faced declining search rankings and traffic after a website redesign. Following the implementation of recommendations, they saw 56 priority keywords return to Page 1 in two months and regained previous traffic levels in three months.

B2B site: A manufacturer's website experienced lost rankings and dwindling organic traffic, but after implementing improvements in user experience, internal linking, and content quality, they started to see traffic results in four months, record levels of organic traffic in nine months, and a 100% increase in organic traffic within two years.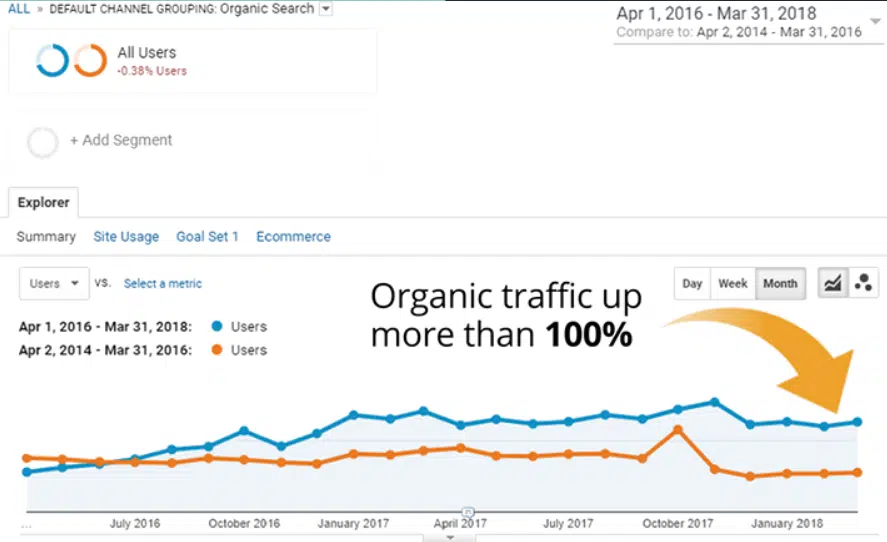 B2C site: A nationwide drug-screening company sought to enhance their underperforming website. Following on-page optimization, technical SEO, user experience, and content improvements, they experienced a remarkable 166% increase in traffic within six months compared to the same period two years prior.

The timeframe to see results is influenced by several factors, including:
Your actions: The clock starts ticking once you implement your SEO program, not during the planning phase. Failure to act promptly on recommendations can delay results significantly.
The website: If your website faces technical issues, manual actions from Google, or negative impacts from core updates, it may take longer to see results. Quick fixes are rare but possible, such as resolving robots.txt file issues.
The competition: Competing in tough markets with resource-rich competitors might slow down your progress. Staying nimble and creative can still help you succeed.
While you may never see faster results than the outlined timeframe, there are ways to accelerate the process:
Get an in-depth, technical SEO audit to identify specific site fixes and prioritize actions to beat the competition.
Enlist the help of an expert SEO consultant or agency to guide you through the SEO journey effectively.
Remember, initial SEO results are good, but ongoing efforts bring even better outcomes. SEO is an ever-evolving process, and with a solid strategy, you can expect improved results over time.